Parents: Please click here to update your student's information from this online form.
---
Senior Cap and Gown pictures will be February 28th.
There will be a $10.00 sitting fee.
Pictures will be taken during the school day
.
---
Due to the snow days and exams still proceeding, administration and teachers have had to make a school-wide data driven decision that may affect some student's schedules Thurs. 1/11/18 and Fri. 1/12/18. Many EOC students taking Biology, Math 1, & English 2 will be receiving additional time to review with their teachers during the school day. Students will be notified of these changes Thursday morning and will still be given review materials for all classes in preparation for upcoming exams. If you have any further questions please contact the front office. Thank you.
---
High School Exam Schedule will be January 18, 19, 22, and 23.
---
---
Student Leadership Program
This a great oppportunity.
For more information about the student programs please contact
Debra Longley - Debra.Longley@MilitaryChild.org -
---
---
Northside High School Has Been Recognized As A
PBIS Model School-2016-2017. Way To Go, TEAM!
Northside High School
received the
2016-17 Model School Award
from North Carolina Positive Behavior Intervention and Support Initiative
PBIS Global Education Initiative
Northside High School Welcomes Jacksonville Commons Elementary School on December 19, 2017 for our 1st Festival of Cultures! -Sponsored by the "Integrated Academics and Behavior Supports" (PBIS/MTSS) Team
https://animoto.com/play/lpbhrCbLwUatQiKvk6BJ4w
---
Congrats!!!!
Nicole Martin
OCS Teacher of the Year
http://www.camplejeuneglobe.com/carolina_living/nicole-martin-making-an-impact-on-students-lives/article_317b466a-dab6-11e7-ad80-7bc1cf1c2177.html
---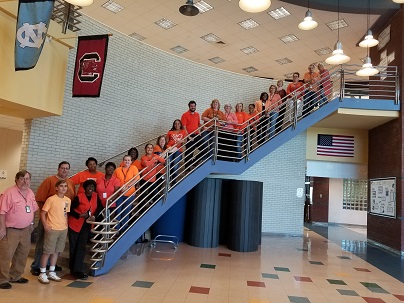 Staff and students supporting Unity Day by wearing Orange.
---
PBIS Staff of the Month for November
Coach Dustin Johns
The following students were nominated for
PBIS Students of the Month for November:
Ariel Garcia 12th
George Reilly Smith 9th
Darrius Parker 11th
Anishia Beckley 11th
An Pham 11th
Q'Shaunna Jefferson 11th
Tyler Lepage 12th
Joscelyn Felder 12th
Shania McClary 11th
Alexia Kiser 11th
Scott Smith 10th
Elvine Katanga 11th
Zyon Pye 12th
Marianna Cota 12th
Jaden Day 11th
Kira Napier 10th
Adonia Williams 12th
Cameron Shull 9th
James Sullivan 9th
Emaiya Figueroa 9th
Nicholas Layton 9th
PBIS Student of the Month Winners: November
9th Grade: Jaden Day
10th Grade: Lamar Hunt
11th Grade: Q'Shaunna Jefferson
12th Grade: Joscelyn Felder
---
---
Graduation Project Due Dates
2017-2018
Non-Advanced Studies English IV

Advanced Studies and English IV

9/08/17 Mentor Commitment form

9/15/17 Reflection # 3

9/29/17 Mentor 4 hours complete

10/12/17 Reflection # 4

11/16/17 Reflection # 5

12/01/17 Product Complete

12/8/17 Reflection # 6

12/18/17 Reflection # 7

12/19/17 Presentation PPT

12/20/17 Judges Letter (edit)

1 /4-5/18 Practice Presentations

w/forms

1/8/18 Reflection # 8

1 /9-11/18 Presentations

9/08/17 Mentor Commitment form

9-11/17 Weekly Reflections

9/29/17 Mentor 4 hours complete

9-12/17 Weekly Reflections

9-12/17 Weekly Reflections

12/01/17 Product Complete

9-12/17 Weekly Reflections

9-12/17 Weekly Reflections

12/19/17 Presentation PPT

12/20/17 Judges Letter (edit)

1 /4-5/18 Practice Presentations

w/forms

1/8/18 Reflection # 8

1 /9-11/18 Presentations

Note: Students must complete and pass the Graduation Project to graduate.
---
The Monthly ROAR Newsletter-October 2017
---
Need help finding your bus schedule?
Click the bus schedule link below to find your time and stops.
---
2017-2018 Student Handbook
Handbook Changes & Updates
Updated (10/20/2017)
Dresscode Policy
Electronic/Cell Phone Policy
Food & Flower Delivery
Student Check Out Times
10 Minute Policy
PowerHour and Parking Privileges
*Please be reminded that all students, parents, and guardians will be responsible for reading the content of the student handbook and adhering to the policies and procedures set forth by Northside High School and Onslow County Schools.
---
March2Success
March2Success provides an online study program to help students prepare for standardized tests, improve school work and review materials.
---
Important: Northside will no longer request a schoolwide 3 inch binder because students will be transitioning to an electronic binder using Microsoft Teams. Therefore, we are requesting a 1 ½ or 2 inch binder instead of the 3 inch binder (this includes all AVID Elective classes). Another change will be the agenda/planner; this too will be electronic using Outlook. Students will be instructed to use these tools effectively.
---
Thinking about being a part of a program that isn't available at the school in your district? Consider Controlled Enrollment. For more information and the application click here.
To access the course guide for 2017/2018 please click here.
---
PBIS GREEN RIBBON RECOGNITION 2015-2016

---