2015 - 2016 Onslow County Schools Bus Schedule!
Begin by taking a TOUR of Northside High School...
*To view this video in a larger window, please click on the YouTube icon in the lower right-hand corner of the video.
Sign up for TEXT Updates if you are a freshman or a parent of a freshman →→↓↓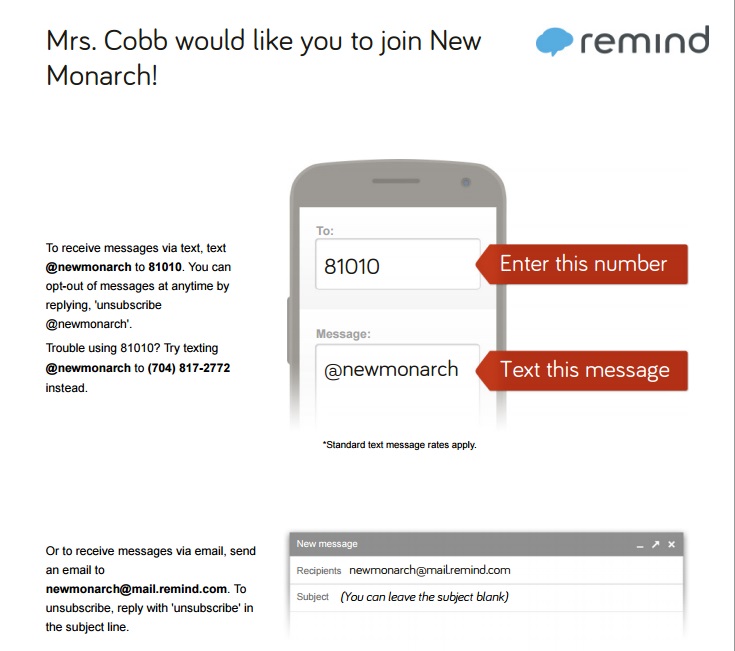 The new school year is quickly approaching. We hope you have had an enjoyable summer. All of us at Northside High School are looking forward to welcoming you. We are excited to assist you as you begin your high school career.
It is very common for students to be a bit nervous about starting high school. At Northside, we make it a priority that your transition to ninth grade is smooth and successful. You will meet many students and staff at orientation who are dedicated to making this happen. My best advice to you is to attend school every day, work hard, and get involved in the school community. Stay informed by signing up for the text updates (directions above) and joining the Edmodo group "Class of 2019" (code: 8fanbx). Don't be afraid to ask for help when you need it and remember, this is your school! WELCOME, you are NOW officially a MONARCH! If you have any questions, please feel free to contact us at 910.455.4868.
If you cannot attend Freshmen Orientation or have questions about the academy you are in, please contact your freshman advisor, Kari Cobb, at 910.382.2188.
Important Links to ensure a successful Monarch journey:
Important Links for athletics: